Merlin Sound ID: Project Overview
The Merlin Sound ID project is a community-driven effort to develop a powerful, global bird sound identification tool for birders, researchers, and conservationists. This powers:
Engagement – improves identification skills and community awareness of birds
Research – expands analytical capabilities
Conservation – supports acoustic monitoring efforts and conservation decision making
The Merlin Sound ID project is filling a significant gap in our collective ability to scale the preservation and sharing of expert knowledge in the identification of bird sounds. We have a great start, but we need your help!
The project began in 2020 and was focused on the birds of the United States and Canada, with the first release of species in the Merlin Bird ID app on June 23, 2021. Since then we have expanded our efforts to the Western Palearctic, the Neotropics, and India, and plan to continue adding species and regions in the coming years.
---
How can you help expand the coverage of Merlin Sound ID to more species?
Record Sounds!
The best way to contribute is to upload your bird sound recordings to the Macaulay Library through your eBird checklists. More than 100 focal recordings are needed to train Merlin to identify a species, but only 20% of bird species worldwide have enough recordings. Check out an online course to learn how to make bird sound recordings, or explore sound recording tips and guidelines for uploading to eBird.
Why does Merlin Sound ID not cover all the birds in my regional Merlin pack?
Merlin Packs provide a way to download species accounts with reference text, photos, and audio for the suite of species in a region. Merlin species accounts only require a handful of high-quality photos and audio to be published. Thanks to the contributions of the ML and eBird community, we now have global coverage for our Merlin Packs.
In contrast, for Merlin Sound ID to recognize a species of bird, hundreds of audio recordings need to be archived in the Macaulay Library, along with considerable expert input (see below). We need more audio files and expert input for the majority of the world's bird species—but we're working on it! You can help by uploading recordings (see above).
What is the process for adding new species to Merlin Sound ID?
We focus on regions where 1) the Macaulay Library archive has enough sound recordings of enough species to attain regional representation, and 2) there are enough expert annotators who can work with us to train the machine-learning Sound ID model.
When a sufficient number of commonly occurring species in a region can be supported, we collaborate with our partners and contacts in that region to annotate the files and subsequently test and release these species in Merlin Sound ID.
We release updates to the Merlin Sound ID model about twice a year. Each model release improves the performance of species already supported, as well as expanding coverage to new species.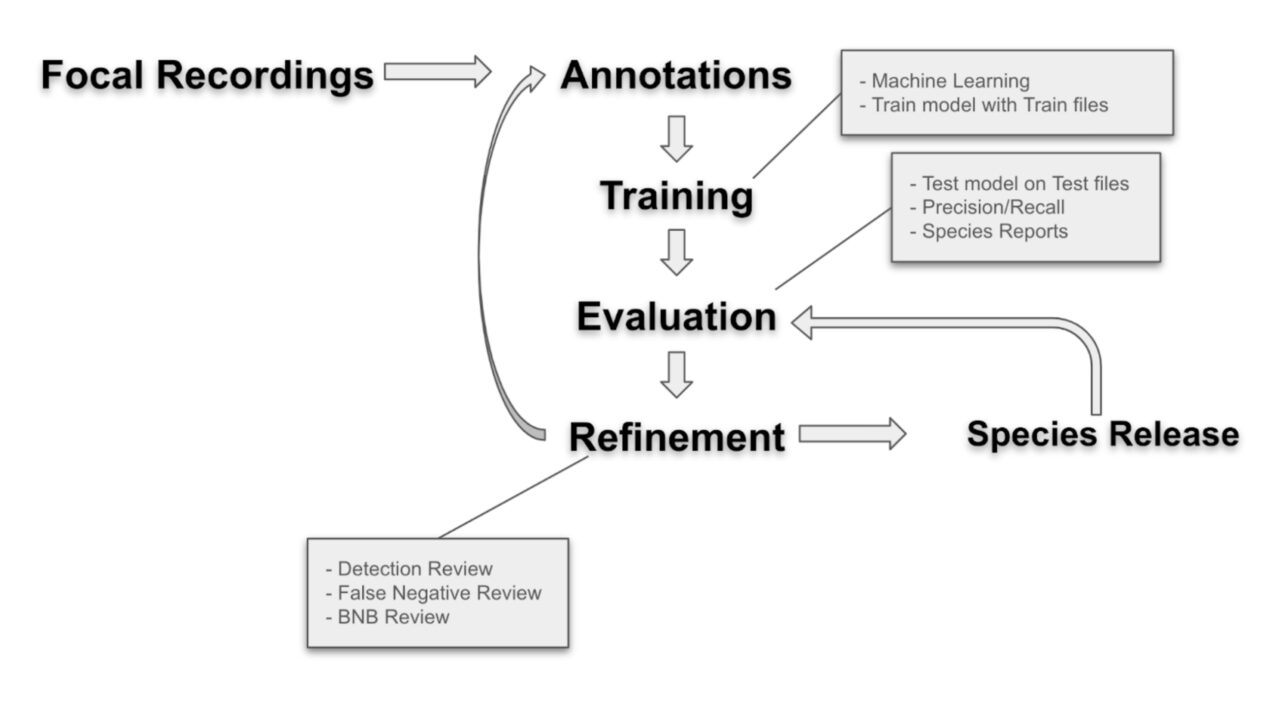 Annotating Recordings
Annotating recordings that birders have uploaded is a key step in the Merlin Sound ID development process. Experts in bird sounds for regions under active development can become sound annotators to help train Merlin Sound ID.
Learn more about the process of annotating recordings using the Merlin Vision annotation tool by watching the Merlin Sound ID Annotation Quick Look YouTube video or visit our tutorial.
Are you an expert in the bird sounds of your region? You might be able to help train Merlin Sound ID.